Product brochures
Overview
ABB offer a range of energy storage converters suitable for large commercial users, of which there are two particular products to consider, depending on whether an uninterruptible power supply (UPS) - near-instantaneous switchover to backup power - is required or not.
For applications not requiring UPS, ABB's Energy Storage Inverter (ESI) range of inverter/chargers are suitable, while users who have sensitive or critical loads (e.g. data centres) are better off with ABB's Power Conversion Systems (PCS) series, which can provide UPS. Both ranges of products are compatible with most battery types, although our recommended technologies are SimpliPhi or Samsung SDI.
Energy Storage Inverter (ESI)
Some of the key features of this range of converters are:
Flexibility. The ESI range can be controlled by any controller supporting Modbus RTU/Modbus TCP-IP protocol and is compatible with a wide range of battery technology. The ESI-Manager also provides a user friendly interface for setting inverter parameters and charging/discharging regimes.
Precision control. Designed for control of both real power (P) and reactive power (Q) individually in each phase.
Power quality. Active harmonic filtering, load balancing and reactive power compensation features provide additional power quality improvements.
Small footprint. High power density allows for a compact design.
Modularity. Up to 8 inverters can be connected together for a large range of power (up to megawatt ratings)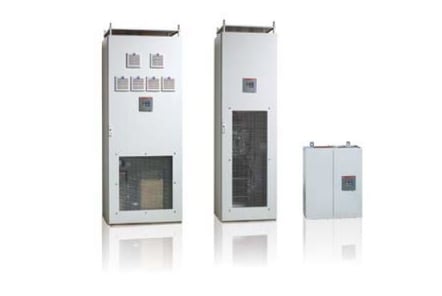 The ESI range can be used for a variety of applications, such as:
The table below summarises the technical specifications available for the ESI range:
ESI-I
ESI-M
ESI-S

Max. power (one unit)

Up to 315 kW

Up to 100 kW

Up to 85 kW

Voltage range

585-830 VDC at 400 VAC

Modularity

Maximum 8 inverters can be combined

Max 4 inverters

Mounting

Free floor standing cubicle or IP00 plate (ESI-M)

Wall-mount enclosure

Dimension (width x height x depth)

800 x 600 x 2150 mm

600 x 600 x 2150 mm (cubicle)




498 x 432 x 1697 mm (plate)

588 x 326 x 795 mm

Weight

525-620 kg

250 kg

120 kg
Power Conversion System (PCS)
The PCS100 range of converters are designed for providing complete power protection to high energy industry users with critical loads (e.g. mega data centres, manufacturing plants). The main highlights of this inverter technology are:
Islanding mode/UPS. In the event of grid supply loss the system can provide continuous power to critical loads in island mode, and then re-synchronise this islanded network to enable seamless transfer back to grid connect mode when power returns. Can be installed to protect the whole supply or just selected critical loads.
Energy storage options. Compatible with a wide range of storage options, including most battery technology. Coupled with batteries, backup times of up to 15 minutes can be achieved.
Low ownership cost. High efficiency (>98%), small footprint and minimised maintenance costs reduce overall system cost to the user.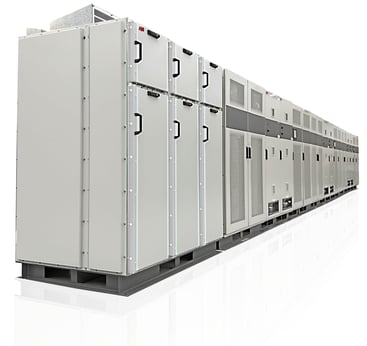 The key applications for PCS systems are:
UPS. For users requiring a lot of uninterrupted power, the PCS100 MV UPS is ideal for protecting either the complete supply or selected critical loads, for minimal operating cost.
Peak shaving.
Frequency regulation.
Power quality improvement.
Increase self-consumption of renewables.
Summary technical specifications for the PCS100 ESS range are as follows:
PCS 100
Power rating (one unit)

100-4800 kVA

Voltage range

250-820 VDC at 150-480 VAC (D-Type module)




750-1120 VDC at 150-480 VAC (C-Type module)

Efficiency

>98%

Modularity

max. 6 modules per 800 mm cabinet




max. 8 modules per 1000 mm rack

Operating temperature

0-50°C

Dimension (width x height x depth)

2154 x 809 x 804 mm (cabinet)

Weight

730 kg