Product brochures
Overview
The Sungrow-Samsung SDI Energy Storage System (ESS) combines bi-directional inverters from the world's leading inverter supplier, Sungrow, with lithium ion batteries from Samsung, one of the top three lithium battery suppliers in the world. The two companies joined forces in 2016 to develop commercial and utility scale storage solutions.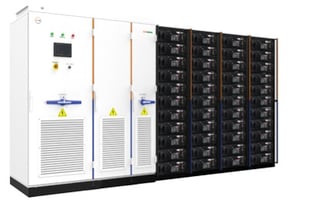 The inverters and batteries are integrated together as a containerised solution, scalable from 50 kW/50 kWh to MW/MWh (max capacity for the 40-foot battery container is 9.1 MWh), with intelligent software to provide all of the functionality required to realise the cost savings and revenue streams available in the commercial energy storage market.
Sungrow inverter/charger
The Sungrow inverter/chargers employed in the integrated ESS come in 50 kW, 100 kW, 250 kW, 500 kW and 1 MW sizes, all characterised by a high power density, high efficiency and wide voltage range.
The table below summarises the key technical specifications for the inverter range:
SC 50
SC 100
SC 250
SC 500TL
SC 1000TL
DC Voltage range
195-650 V
500-800 V
500-800 V
500-800 V
780-1050 V
Nominal output power
50 kW
100 kW
250 kW
500 kW
1000 kW
Nominal output voltage
400 V ±3%
Max. efficiency
95.5%
97.3%
97.3%
98.2%
98.5%
Dimension (W x H x D)
806x1884x636 mm
1006x2043x850 mm
1606x2034x860 mm
1605x2065x935 mm
Weight
730 kg
760 kg
1600 kg
1300 kg
1100 kg
Operating temperature
-30°C-55°C
Samsung SDI battery
Samsung SDI offer optimal battery storage solutions based upon their extremely safe, high-grade prismatic lithium manganese cobalt (NMC) cells. These cells feature multi-layered safety protection (including NSD (Nail Safety Device) to prevent the cell catching fire if penetrated), along with enhanced durability and high capacity energy density.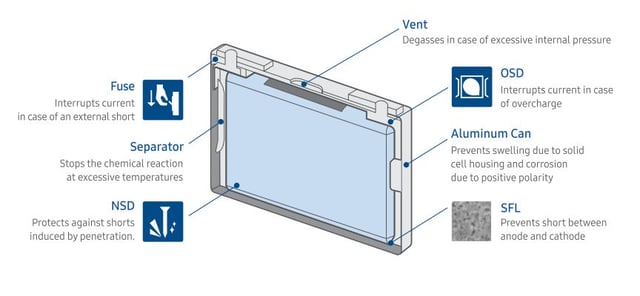 The batteries are available in a range of three module types (Energy, Medium and Power), whose suitability depends on what rate of output is required (0.5C, 1C or 3C). Individual modules can be configured in racks housing up to 12 modules as standard.
The key technical specifications for the three module types are as follows:
| | | | |
| --- | --- | --- | --- |
| | Energy | Medium | Power |
| Model | E2-M076 | M2-M076 | P3-M063 |
| Energy | 7.6 kWh | 7.6 kWh | 6.3 kWh |
| C-rate | 0.5C (2hr+) | 1C (1hr+) | 3C (20min+) |
| Voltage | 70.4-91.3 V | 70.4-91.3 V | 68.2-90.2 V |
| Dimension (width x height x depth) | 370 x 588 x 160 mm | 370 x 650 x 160 mm | 370 x 650 x 160 mm |
| Weight | 55 kg | 55 kg | 51 kg |
Applications
The Sungrow-Samsung SDI system can be utilised for all of the commercial storage applications detailed on our page Benefits of Storage – Commercial (> 50kWh), including provision of an uninterrupted power supply (UPS).
In summary, potential applications are:
Peak shaving. Reduce maximum demand from the grid at peak times and avoid high charges from TRIADs, DUoS and CM Levy.
Emergency backup/UPS. Ensures critical loads are protected and continue to run uninterrupted in the event of grid failure.
Grid services. Gain income for the provision of Frequency Regulation and Capacity Market services to the grid.
Transmission and distribution support.

Supply increased power to a site to defer the need to upgrade the grid connection.
Increase self-consumption. Lower bills by using more of your on-site generation (e.g. solar, wind).