What about the EPC requirement?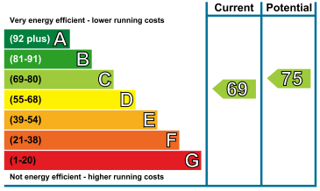 The feed-in tariff for solar PV installations is linked to the EPC rating of the building or buildings in which it is installed, or through which it is wired. Unless the installation is for a community building (e.g. a school or building belonging to a charity), the system owner has to prove that any building that is wired in such a way as to benefit from the electricity produced by the PV array has an EPC rating of D or above. If they do not prove this then they will not qualify for the full feed-in tariff rate and will be locked into a FIT rate of 0.2p/kWh for life (inflation linked).
However:
Checking your EPC is easy – if you have bought or rented your property since October 2008 it will already have an EPC as this is required by law. It should be in the paperwork that came with the house. If not, speak to your estate agent.
If your EPC is already rated D or above, all you will need to do is provide a copy of the certificate when registering for the feed-in tariff.
If your EPC is rated E or below then all is not lost – speak to us to find out any other energy efficiency measures we can help you undertake to bring your property up to standard. This may be as simple as some new loft insulation!
Note that the energy efficiency contribution from the solar installation itself is not considered for the purposes of obtaining the required D-rating to qualify for the higher FIT rate.
Don't have an EPC? Don't worry
If you don't have an EPC then the good news is that Spirit Energy includes the EPC as part of our installation.
What about outbuildings, barns, or garages?

The key wording in the government regulations is that if the solar PV system is wired "in order to provide power to a building that can have an EPC", then this building needs to have an EPC. A "building" for this purpose is defined as a construction having a roof and walls that uses energy to control its internal climate. For example, this means that if an installation is going on an outbuilding that is unheated, but this outbuilding is wired to the same electricity meter as a house which is heated, this house will need to have an EPC rated D or above.
If you have questions about the EPC requirement, please don't hesitate to contact us for more information.