Lighting control: there's a whole world between on and off
One of the best ways to save energy in any building is to install a lighting control system, so that lights can be dimmed to low levels as required, and turned off automatically when not required.
More importantly perhaps, a lighting control system will enable you to create the right ambience whatever your space is being used for, and whatever the time of day or night. Using pre-programmed 'scenes', occupancy sensors, time clocks (based on actual time or astronomical time, principally sunrise and sunset), and even voice commands, you can easily create the right mood and light levels for cooking, entertaining, cleaning, studying, sleeping etc, all accessed by some really good looking keypads, such as this one (the Palladiom from Lutron)...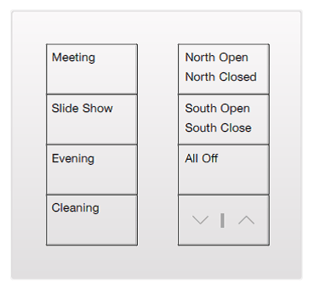 Lighting control systems can be extended to include automation of window treatments (blinds, curtains etc), sound systems, automated watering systems, and heating systems. They can also be linked into security systems and fire systems so that lighting responds intelligently to any security or fire 'event'. The systems also have a holiday mode, such that occupancy can be simulated even when the house is unoccupied.
Lutron Homeworks QS and Grafik Eye QS
Our favourite lighting control systems are made by Lutron, with Grafik Eye or Homeworks QS being suitable for most houses.
You can download their brochures with these links:
Product Brochure - Lutron Homeworks - Spirit Energy
Product Brochure - Grafik Eye - Spirit Energy
Lutron Homeworks QS is a 'whole house' solution, whereas Grafik Eye is a single room solution (also good for meeting rooms etc at work).
The systems combine wired and wireless lighting and window treatment controls. In general they are best installed as part of a new build, or total renovation / rebuild, and therefore our focus is generally on new builds and renovations.
Why Lutron?
Lutron is a privately owned US company, started over 55 years ago by Joel Spira. If you visit the Smithsonian Museum in Washington, you will see Joel Spira's world changing invention, the rotary dimmer. Lutron has around 2700 worldwide patents and over 15,000 products. The company specialises in lighting controls and in window treatments (blinds etc) and so their systems provide an integrated lighting and window treatment control system.
Lutron systems are not the cheapest, but if you are looking for a lighting control system that is reliable, technically excellent and well, delightful – yes, delightful - Lutron is in our opinion the supplier you need to turn to.
We love Lutron for several reasons:
Their fastidious attention to detail, the fact that they luxuriate in precision engineering the smallest components.
The clean, minimalist but elegant aesthetic of their faceplates (light switches), with large tactile buttons and backlit engraved text.
Their almost silent shades (blinds) using steel ball bearings rather than plastic ball bearings, alongside intelligent hem bar alignment and 29 pre-set positions.
Their quality control and obsession with reliability – they don't use 10% sampling, they test every product, and every sub-assembly, leading to the lowest failure rates in the industry.
Their fantastic customer support and 24 hour help desk.
The unlimited possibilities of their system: scenes / lights can be programmed with almost any conceivable conditional logic (if X happens, turn these lights on, but if something else happens, turn these lights off and start watering the flowerbeds).
Their wireless components use a proprietary and patented technology called ClearConnect that operates at a very regulated frequency (868 MHz), shared mainly with car keys. They are not competing with Zigbee or any of the other numerous wireless applications, and, with a lower frequency, they guarantee a wireless range of 9 metres. Your wireless controls won't be turning on the neighbour's lights with Lutron.
Their dimming technology is second to none – they publish a list of compatible lamps (bulbs) for mains dimming, and they build SoftSwitchTM into all of their switching products. This significantly reduces the in rush current and stops problems of arcing.
Their sensor technology is second to none – they have invested millions of pounds into the patented XCT sensor technology to ensure that the sensors sense when they need to, but don't false trigger.
Why choose Spirit?
Like Lutron, we try as hard as we can to pay attention to the detail. We delight in excellence in engineering, design and project management, and we're passionate about lighting control. We're also personable, and we're keen to help.
All projects are managed in house and installed by our solar panel installers.
Call us on 0118 951 4490, request a quote online, or email your plans to residential@spiritsolar.co.uk. We would love to talk about your project; there is no charge for an initial consultation or quote.