Get a quote for Commercial Solar + Solar PPA
Spirit is a commercial solar installer. We work with several financiers and can obtain quotes for lease finance and / or Solar PPA finance. We can usually obtain three or four PPA quotes on behalf of our clients.
If you would like a quotation for commercial solar and PPA finance, please call us on 0118 951 4490, or email us on commercial@spiritenergy.co.uk.
We installed the largest educational solar system in the UK - 634kWp at Sparsholt College in Winchester. The system was financed by a PPA agreement and the College is now benefiting from low cost solar electricity. If you are looking for a solar PPA, we'd love to help.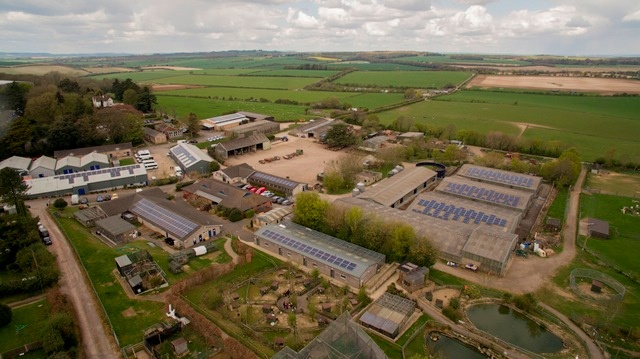 What is a Power Purchase Agreement?
A Solar PPA or Power Purchase Agreement is an agreement under which a PPA investor (developer) arranges for the design, financing and installation of a solar PV system at a commercial site, at no upfront cost to the site operator (usually, but not always, the site owner).
Spirit's role is to provide initial design and installation, as well as on-going monitoring and maintenance services to the developer, with end-to-end project management using our in-house design and installation team.
The developer sells the power generated to the site operator at a fixed rate that is below the rate available via the grid. This lower electricity price serves to offset the customer's purchase of electricity from the grid.
As well as receiving income from the site operator, the developer also receives an export tariff in respect of any solar energy exported to the grid.
The term of a solar PPA is typically 25 years. The developer is responsible for the operation and maintenance of the system for the duration of the agreement. At the end of the PPA contract term, a customer may be able to extend the PPA, have the developer remove the system or choose to buy the system from the developer.
Benefits of PPAs
No or low upfront capital costs: The developer handles the upfront costs of sizing, procuring and installing the solar PV system. Without any upfront investment, the site owner is able to benefit from solar energy and start saving money as soon as the system becomes operational.
Reduced energy costs, with known inflation rates: Solar PPAs provide a fixed, predictable cost of electricity for the duration of the agreement. The fixed cost per kWh paid for solar energy typically inflates either at a known fixed rate, or at the rate of RPI. Both inflation rates are below expected electricity price inflation.
Limited risk: The developer is responsible for all installation and operating permissions, system performance and operating risk.
Zero cost 'green':

Improved sustainability, positive CSR benefit, contribution to renewable energy target.
Ideal for any organisation...
owning their premises

or with a

long-term lease;

with

at least 600m2 of roof space

and can accommodate a system sized

at 100kWp or more;
with a reasonable (80,000 kWh a year plus) electricity usage and half-hourly metering in place;
with a

good credit rating and sustainable long term outlook.
If you don't fit these criteria, it doesn't mean solar isn't right for you and it doesn't mean it can't be funded - there is other finance available e.g. lease finance. So please get in touch if you would like a quote or further information. Solar can usually be structured to be a cash neutral or cash positive investment from the outset.
You can also complete our Solar PPA Quick Assessment Form and we will make an initial assessment of the viability of a PPA at your premises: