Battery storage for solar panels
In the UK, hundreds of thousands of domestic and small commercial solar systems have been installed. Over the past two years, more and more of these systems are being retrofitted with a solar energy storage system to help maximise the benefits of solar PV generation. In several cases, the size of the original solar system is being extended.
Solar battery storage has the potential to solve the problems of intermittent supply of renewable energy (mainly solar and wind):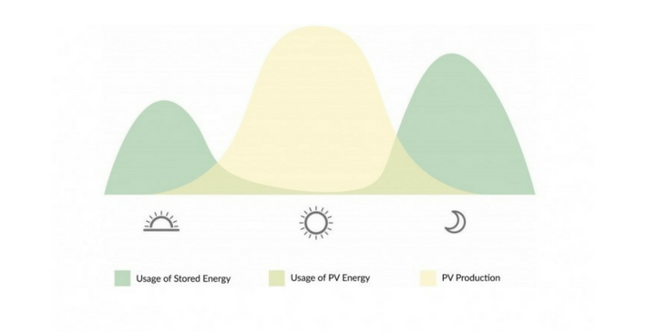 Installing storage affords the following potential benefits:
increased on-site use of solar – with a correctly sized solar energy storage system, 65%-80% of solar generation should be used on site, thus reducing the owner's electricity bill;
emergency power supply in a power cut;
the ability to buy electricity off-peak and store it for use at peak;
the potential to increase on site power output by around 20% (useful when fast-charging an electric vehicle);
potential to access future opportunities including the export and sale of electricity at peak charge times, and the provision of grid balancing services.
The economic case for solar power storage
In economic terms, with the correctly sized system, the lifetime cost per kWh of stored electricity is around 12p per kWh. This compares to an average domestic grid cost of around 19p per kWh, and an average expected cost of around 25p – 30p per kWh over the life of a typical storage system.
The lifetime cost per kWh typically assumes an expected lifetime of between 10 years and 25 years (or 3,000 – 10,000 lifecycles), and whilst the overall economic case is favourable, solar energy storage should undoubtedly seen as a long-term investment.
The best solar power storage systems
There is no "one size fits all" solution in battery storage. When designing a solar storage system, our final recommendation needs to take into account sizing (excess electricity from the PV system, on site usage) and functionality, in particular whether or not an emergency power supply is required and whether or not the PV needs to function in a power cut. These requirements inevitably impact budget.
Having said that, for most of our domestic clients, the "best in class" for solar energy storage is Tesla Powerwall 2.
Inverter / charger technology:
Packaged systems: Tesla Powerwall 2 is a packaged system combining the battery and charger into one unit. It is AC-coupled, and unless backup is required, they are compatible with any solar system.
Hybrid systems: There are DC-coupled systems, whereby the battery is charged and discharged accessed via the same inverter / charger connected to the solar panels. These are best installed on new systems, our favourite being GivEnergy.
Our favourite inverter chargers are Victron and SMA. SolarEdge also provides a product called StorEdge, directly compatible with SolarEdge solar systems and indirectly with any solar PV system using an additional inverter.
Other systems: Powervault produces a small solar storage system, which could be suitable for smaller properties with sub 4kWp solar system and small on site usage.
Is the Tesla Powerwall 2 right for me? Download our free guide
| | | |
| --- | --- | --- |
| Is the Tesla Powerwall 2 right for me? | | |
How much will battery storage for solar panels cost?
The installed cost of Tesla Powerwall 2 is around £8270 + VAT. Storage capacity is around 13.5kWh and so this gives a cost of around £613 + VAT per kWh.
This is about as competitive as it gets… on a cost per kWh basis, pretty much every other system will be a similar cost or more expensive.
Download our Guide to Residential Solar Storage
For more information on costs and lifetime performance analysis, and for a detailed technology comparison, download our Guide to Residential Solar Storage: