About GivEnergy
GivEnergy is a relatively new entrant to the solar battery market. It is a British-owned company with facilities across the globe. The main reason to go for GivEnergy batteries is that they are very affordable and we have found the sales and technical support to be excellent.
Systems overview (Residential)
The domestic offering is aimed at homeowners with a standard single phase (230V) electricity supply. If you are a homeowner with a three phase (400V) supply, we recommend you look at Victron systems.
GivEnergy also offers separate inverter/chargers and battery units, thereby adopting a flexible mix and match strategy to enable the customer to build the system of their choice:
Inverters
Choice of:
AC Coupled 3.0kW inverter-charger, ideal for 'retro-fitting' storage to an existing solar system;

Hybrid 3.6kW or 5.0kW Inverter-charger, allowing the connection of solar and battery storage to one unit, making them suitable for new solar systems, or extension systems. These hybrid inverters have recently been updated; thus they are called 'generation 2'.
It is worth noting:
Unlike some systems (e.g. Victron, Powerwall), you can only connect one hybrid inverter on a single phase (230V supply) – you cannot ramp up the system size by connecting two units.

In theory you can connect up to three AC coupled 3.0kW unit per phase, to increase power output, but we would recommend using a different system altogether if you want a bigger power output from your storage system.

The GivEnergy hybrid system should not be retro-fitted to an existing PV system because it will be unable to monitor the output of that system, thus compromising the core functionality (see below for core functionality). If you want to add additional solar panels and battery storage to an existing solar system, we recommend you use MyEnergi or Victron.
Batteries
Connect up to five battery units together; choose from a range of unit sizes:
2.6 kWh / 51Ah

5.2 kWh / 102 Ah

9.5 kWh / 186 Ah
Note that the capacities shown are nominal capacities. The usable capacity is 80% of the nominal capacity. The batteries are lithium ferro phosphate, which typically offers 5000 – 10000 life cycles. GivEnergy gives a 10 year warranty (please review the warranty below to review the fine print).
Note that the batteries can go outside, but the inverter chargers are better off inside (or if installed outside, they need to have a canopy installed above them to protect them from rain and direct sunlight).
GivEnergy also offers a power diverter (to divert excess solar generation to the hot water tank), and a voltage optimisation unit, as well as smart plugs to divert excess solar to individual appliances. An EV charger will soon be added to the range.
System limitations
Apart from the lack of scalability discussed above, the main drawback of the GivEnergy systems is that they only offer limited power in a powercut, as described below (download our guide for more information).
Further, with the non-hybrid inverter (Giv-AC 3.0), even though some power is available from the battery in a power cut, the solar PV cannot function in a power cut.
In addition, emergency loads (i.e. those loads that need to function in a power cut), need to be wired to a separate fuseboard, thus slightly increasing installation cost.
GivEnergy appears to be addressing this limitation by developing the 13.5 kWh 'all-in-one' system which will offer 'whole house' backup (subject to DNO (e.g. SSE) permission). This will cater to customers that want a whole house emergency power offering which, when retro-fitted to an existing solar PV system, will allow that PV system to function in a power cut.
GivEnergy hybrid storage systems
A hybrid (or 'DC-coupled') battery system uses one unit to perform the roles of both the PV inverter and battery inverter/charger. These systems minimise conversion losses between DC and AC power.
GivEnergy makes DC-coupled hybrid systems, which are ideal for installing alongside new solar PV systems. The batteries offer 2.5kW backup power and are designed to work with time of use tariffs, including Agile Octopus. GivEnergy hybrid inverter/chargers are available in 3.6kW and 5kW models which can be paired with their range of battery modules.
Remote monitoring is possible through an app and web interface, and the battery receives remote software updates.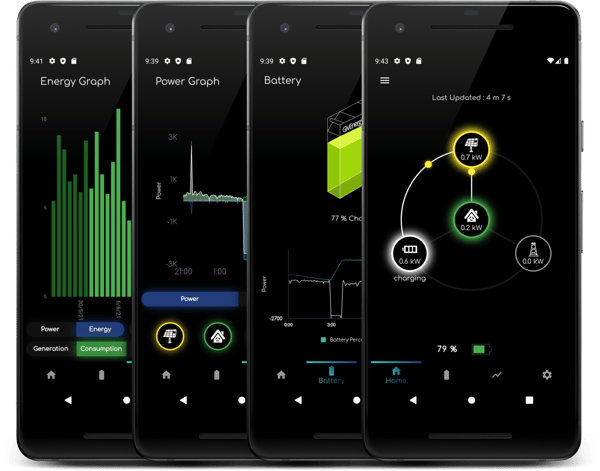 GivEnergy AC-coupled storage systems
GivEnergy also offers a 3 kW AC-coupled inverter/charger suitable for retrofit battery storage installations. This can also provide 2.5 kW backup power and pairs with the same range of battery modules (up to 5 in parallel).

GivEnergy All-In-One
In June 2023, GivEnergy released their 'all-in-one' unit combining the battery and inverter/charger into one unit (like the Tesla Powerwall or MyEnergi 'libbi'). This is a 13.5 kWp system and also provides battery back up in case of a power cut, in a similar way to the Tesla Powerwall it is coupled with a companion gateway system, the Giv-Gateway, which allows seamless transition between grid, battery and solar power in your home.
Large scale commercial systems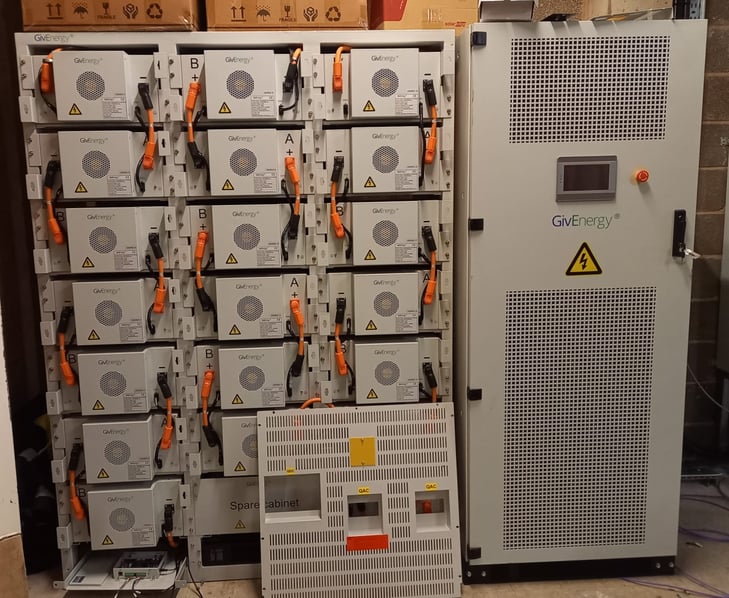 GivEnergy manufactures large scale systems, aimed at high energy users with a three phase grid connection.
The systems are modular, allowing the combination of various inverter sizes (30kW, 50kW, 100kW, 150kW, 250kW, 500kW) with batteries which increase in increments of 64kWh.
As with the domestic offering, the battery chemistry is lithium ferro phosphate, using prismatic cell technology.
The system can be monitored and controlled using the energy management system (EMS) on the GivEnergy platform with additional monitoring points available to integrate to give more specific data e.g. renewable energy generation on site.
We have recently installed a couple of their large commercial batteries (100kW / 192kWh storage capacity), for a large commercial energy user.
Datasheets