About Victron
Victron Energy has a long-standing reputation as a provider of battery storage systems for use in automotive, marine, industrial and solar applications.
Victron manufactures inverters, battery chargers, inverter/chargers, batteries, battery monitoring systems and switchgear, and is known for technical innovation, reliability and build quality. Its products are widely considered to be a reliable professional choice for the management of independent electric power.
Victron Energy is a Dutch company. However it offers full technical support in the UK.
Grid-connected systems
Victron systems work well for grid-tied applications, using their ESS operation mode. An energy storage system (ESS) is used to store excess solar power in a battery for later usage on site, backup a property in the event of a power cut, and time-shift usage outside peak grid hours.
For the Victron ESS with solar PV, you need:
Inverter/charger from the MultiPlus range (3kVA & 5kVA).
GX device (for system management and monitoring).
Battery (Victron or compatible third party e.g. BYD).
Victron ESS systems can be configured for full or partial backup depending on requirements.
Full backup schematic: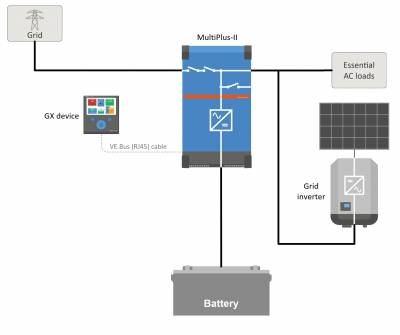 Partial backup schematic (with energy meter):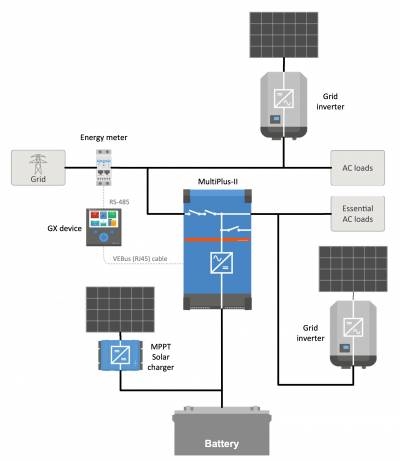 In the event of a power cut, the Victron MultiPlus can continue to power loads on its output. The changeover happens so fast (less than 20ms) that even sensitive electronic loads will continue to function without interruption. This is a key benefit of Victron systems compared with other systems (such as Tesla Powerwall) which can take a few seconds to changeover.
Our go-to batteries for Victron ESS systems are those manufactured by BYD.
Summary of benefits of Victron storage systems
Some of the reasons we recommend Victron for certain projects are:
Off-grid operation.
3-phase backup.
UPS backup.
Options for small or non-standard installations.
Datasheets
Key datasheets for Victron components: