EVBox chargepoints: an overview
EVBox is a leading global manufacturer of EV charging stations and charging management software. Founded in the Netherlands, which is a few years ahead of the UK in adoption of electric vehicles, the company has become the sole public supplier of public charging infrastructure in cities such as Amsterdam, Rotterdam and Monaco. EVBox has an installed base of over 100,000 chargers across over 55 countries.
Its experience in the Netherlands has allowed EVBox to develop superior aesthetics, uncompromising quality and durability, superior solutions for leased cars (cost reimbursement), best-in-class charger management software facilitating easy fleet management, management of multiple chargepoints, and smart charging to facilitate load balancing.
They also have cost effective solutions for pole mounted chargepoints, and double chargepoints. Finally, with modular components, remote maintenance and software updates, there is a focus on flexibility and future proofing, an important plus in the fast changing world of electric vehicles.
The range of chargers and charging management solutions is as follows:
Domestic
Elvi - very stylish chargepoint for private home use and app for tracking;
HomeLine - developed for private cars or leased cars, facilitating easy employer reimbursement of charging costs.
Commercial
BusinessLine - AC chargepoint, ideal for private car parks, hotels, restaurants, business use;
PublicLine - AC charger, aimed at public charging networks.
Charging management
Hey EVBox app;
EVBox charging management system.
Elvi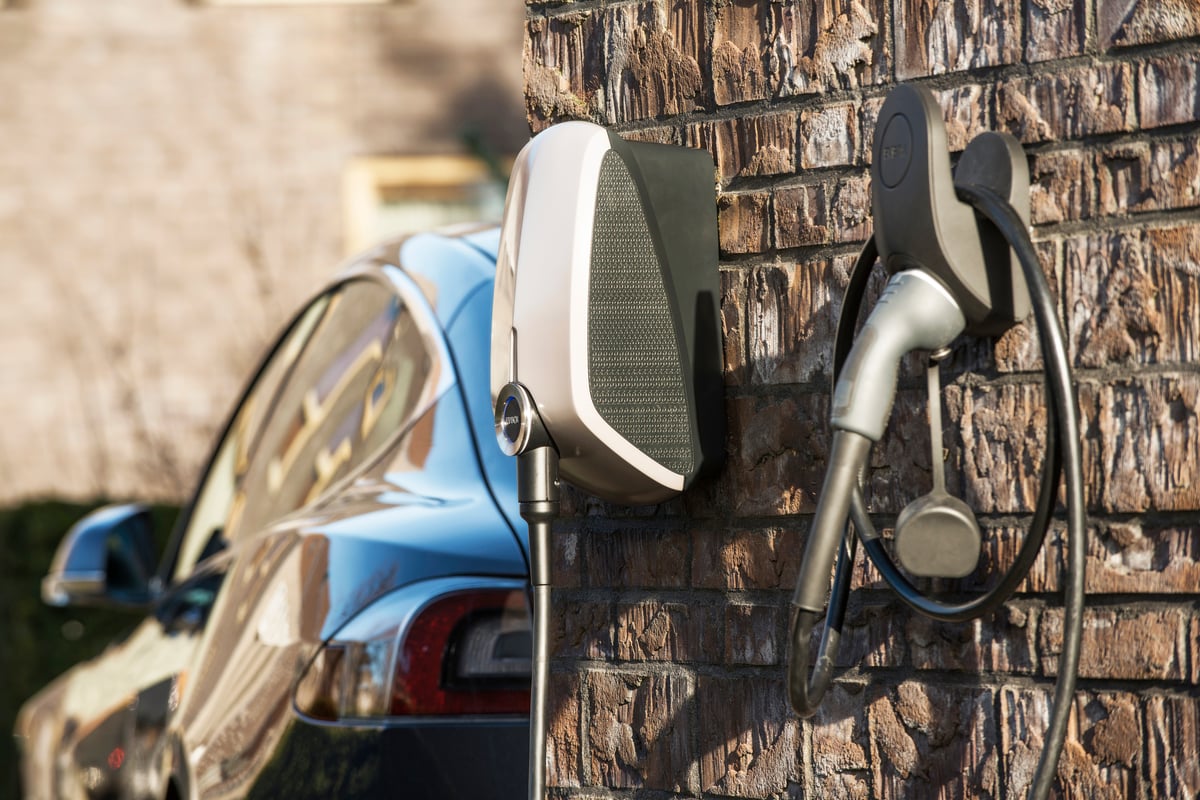 Designed for domestic use, Elvi is compact, stylish and future proofed.
The system has three components: the wall-dock, the station and the cable. Once the wall dock has been installed by an electrician, the modular 'click-on' design means that the user can upgrade / change the charging cable, and, potentially the charging capacity as well.
Note "Should I get tethered or untethered?" is one of the questions we get asked the most.
We have historically recommended universal socket chargers as it gives flexibility if you move say from a Type 1 (e.g. old Nissan Leaf) to a Type 2 socketed vehicle. A lot of users however do prefer a tethered unit as it is so much more convenient - lifting the cable in and out of the car every time you want to charge it can become onerous after a while.
This is one of the many reasons we recommend the Elvi. With Elvi you can buy a replacement cable and swap it out yourself. There's a security pin inside the unit that hold the cable in place.
Key features are as follows:
6m tethered Type 1 / Type 2 cable (cable can be swapped by the user) or Type 2 socket;
connects to the Hey EVBox app to track, schedule, control and reimburse charging sessions;
charging session started / stopped automatically or with charge card / key fob / app;
available capacity single phase (230V): 3.7kW / 16A, 7.4kW / 32A;
available capacity 3 phase (400V): 11kW / 16A, 22kW / 32A;
choice of colour: Misty Black, Polar White;
single chargepoint, dimensions: 328 x 186 x 161 mm (HxWxD);
comms: Bluetooth 4.0, Dual Band WiFi 2.4/5 GHz, optional 3G/UMTS;
Warranty: 3 years (can be extended to 5 years).
HomeLine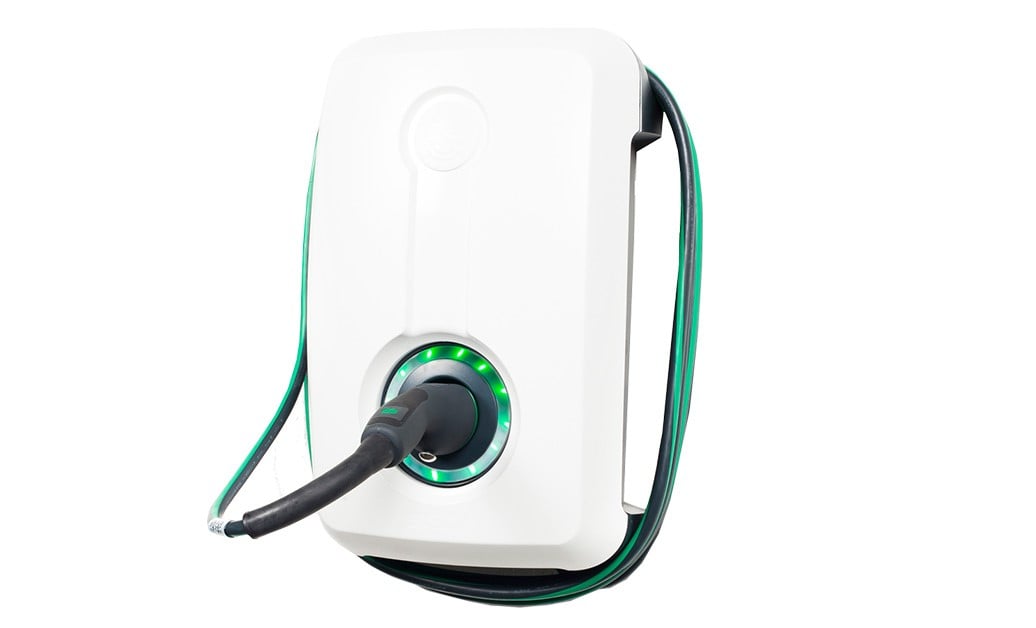 Also for domestic use, HomeLine has been developed for leased cars (in Continental Europe, a significant percentage of cars are company cars). HomeLine automates the invoicing of power consumed with the employer.
Features are as follows:
BusinessLine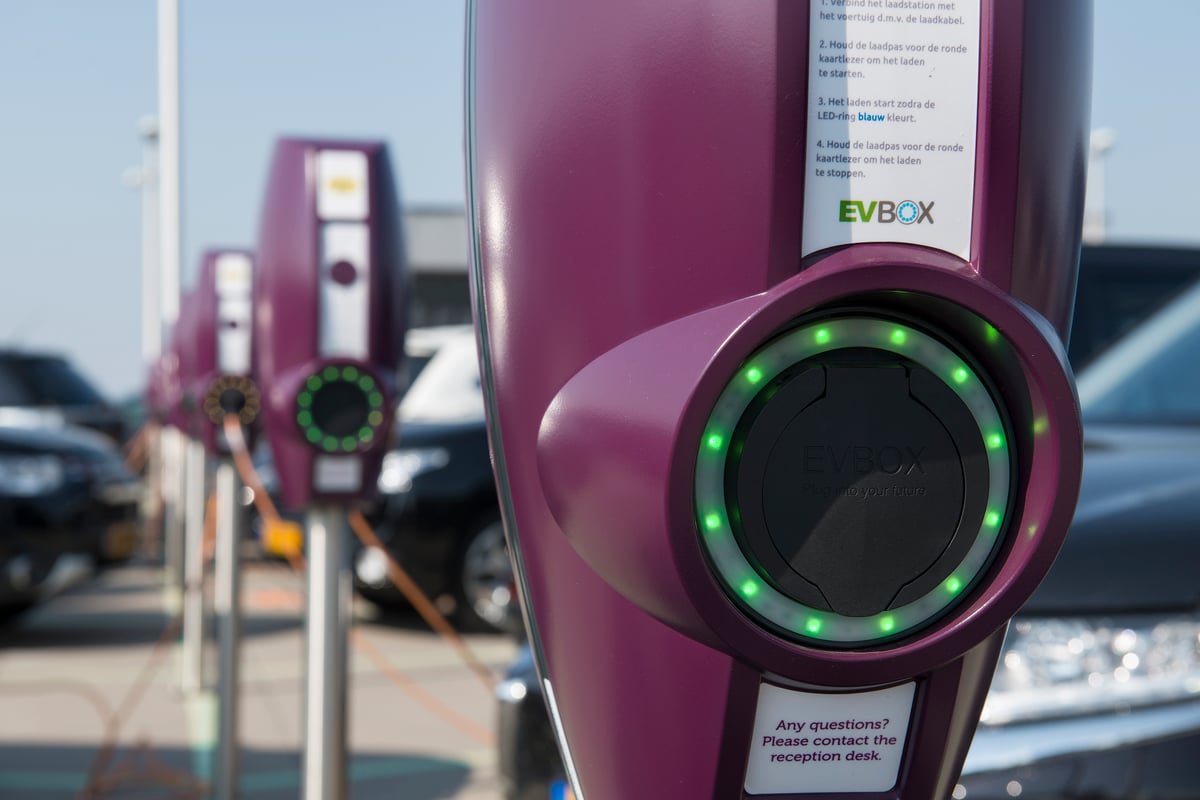 Aimed primarily at the business sector, BusinessLine chargers are ideal for:
corporates and SMEs;
the retail and leisure sector (hotels etc);
fleet operators;
real estate and commercial property (business parks etc).
Combining superb aesthetics with automatic tracking and payment software, the chargepoints are available with single or double connectors to enable two cars to charge simultaneously. The chargers can be supplied with or without fixed cables.
They can be configured with various smart charging technologies that ensure efficient energy use, and can also support remote maintenance and upgrades. The site manager can can adjust charging rates to prevent peak usage and increase return on investment.
Features are as follows:
single phase (7.2kW) and 3 phase (11kW / 22kW) versions available with universal Type 2 socket or Type 1 / Type 2 tethered;

automatic tracking and settlement of charging costs, using the EVBox charging management system (see below);

easy and efficient management of multiple charging stations with the Hub / Satellite configuration;

adjustable charging rates;

energy-efficient distribution of the available power with smart charging services;

single socket or double socket options;
remote maintenance and software updates available;
LED-ring provides a clear status indication;
available in

RAL 5017 (blue), RAL 7016 (dark grey) or RAL 9016 (white)

;
authorisation options: Autostart / RFID / QR code;
comms: GPS / GSM / UMTS / GPRS Modem / controller with RFID reader;
dimensions: 600 x 255 x 410mm / double socket (HxWxD) / 600 x 255 x 205mm single socket (H x W x D);
all EVBox online charging stations include a MID-certified kWh meter;
smart charging ensures that you don't exceed your grid capacity.
PublicLine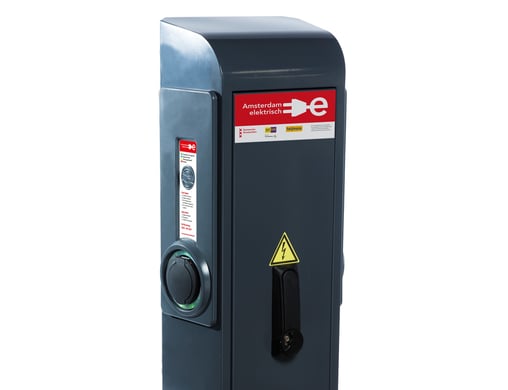 3 phase (11kW / 22kW) robust chargepoint designed for public networks. Access is via RFID card. Double socket, Mode 3 Type 2 universal connector.
Smart charging
The term 'smart charging' covers a range of functionality in the charging station that can be used to optimise the charging process, making it an indispensable feature for operators of multiple chargepoints.
The primary purpose of smart charging is to distribute the available power in an efficient and flexible manner, avoiding over-capacity fees charged by grid operators, and optimising the use of the charging stations in case of limited power capacity.
Charger management
EVBox currently offers two charger management systems, the Hey EVBox app and a full online charging management system.
The Hey EVBox app is the right solution if you want only to manage EVBox chargepoints. Specifically, it is suitable for:
electric vehicle drivers with an EVBox charge card that charge at home, at work and / or in public;

electric vehicle drivers that own an EVBox charging station;

businesses that offer EVBox charging services to employees.
If you want to manage smart chargers of more than one manufacturer, including EVBox, use the EVBox charging management system.
Both systems allow:
full scalability - add an unlimited number of users and charging stations to your account;

automated tracking, invoicing and settlement of charging fees;
configurable rates and charging times;

control over peak usage and access to smart charging functionality.
For each system there is a subscription fee dependent on the number of units managed and whether smart charging functions such as load balancing or peak shaving are activated.