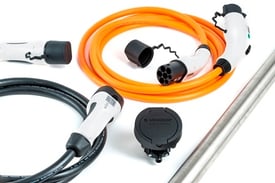 To help you understand the jargon used with electric vehicle chargers, we've put it all together below, our chargers are all Mode 3 devices compatible with all electric vehicles on the market.
Mode 1: Household socket and extension cord
The vehicle is connected to the power grid through standard 3 pin socket present in residences allowing a maximum delivery of power of 11A ( to account for overloading of the socket).
This limits the user to a lower amount of available power delivered to the vehicle.
In addition the high draw from the charger at maximum power over several hours will increase wear on the socket and increase the likelihood of fire.
Electrical injury or risk of fire are much higher if the electrical installation is not up to current regs or the fuse board is not protected by an RCD.
Heating of the socket and cables following intensive use for several hours at or near the maximum power (which varies from 8 to 16 A depending on the country).
Mode 2 : Non-dedicated socket with cable-incorporated protection device
The vehicle is connected to the main power grid via household socket-outlets. Charging is done via a single-phase or three-phase network and installation of an earthing cable. A protection device is built into the cable. This solution is more expensive than Mode 1 due to the specificity of the cable.
Mode 3 : Fixed, dedicated circuit-socket
The vehicle is connected directly to the electrical network via specific socket and plug and a dedicated circuit. A control and protection function is also installed permanently in the installation. This is the only charging mode that meets the applicable standards regulating electrical installations. It also allows load shedding so that electrical household appliances can be operated during vehicle charging or on the contrary optimise the electric vehicle charging time.
Mode 4 : DC Connection
The electric vehicle is connected to the main power grid through an external charger. Control and protection functions and the vehicle charging cable are installed permanently in the installation.
Connection cases
There are three connection cases:
Case A is any charger connected to the mains (the mains supply cable is usually attached to the charger) usually associated with modes 1 or 2.
Case B is an on-board vehicle charger with a mains supply cable which can be detached from both the supply and the vehicle – usually mode 3.
Case C is a dedicated charging station with DC supply to the vehicle. The mains supply cable may be permanently attached to the charge-station such as in mode 4.
Plug types
There are four plug types: