Why service your system?
All electrical systems should be inspected and tested periodically, and solar PV and battery storage systems are no different. Here are the key reasons to service your system:
Maintain

optimal system performance.

Achieve anticipated

financial returns.

Avoid

fire risks.

Ensure effective

earthing.

Check for

damage to cable and connectors.
As a minimum we recommend testing and inspection should be undertaken once every two years by a qualified electrician, trained in the relevant technology.
We offer testing and inspection on a 'one-off' basis, or as part of a more comprehensive package with on-going support. Our prices start from £200 incl VAT for a single inverter, single phase system up to 10kWp.
Cleaning your solar panels, using filtered or de-ionised water
On a sloping array panels will be cleaned by the rain as the glass on the panels is self-cleaning. However, we also recommend the panels should be manually cleaned every year or every two years, depending on location and tilt.
Where possible we will clean the panels from the ground using a low-pressure washer and a long lance. In some cases we will use the harness lines already in place on the roof. In other cases we will use a cherry picker.
A study by Google on their system in California suggested that it's worth cleaning panels once a year at the end of winter; they claim the yield on their system increased by 12%. Our price for panel
We offer module cleaning; our prices start from £100 incl VAT for a single inverter system up to 4kWp.
Servicing packages
In addition to one off servicing and / or cleaning, we offer the following packages with a 2-5 year term: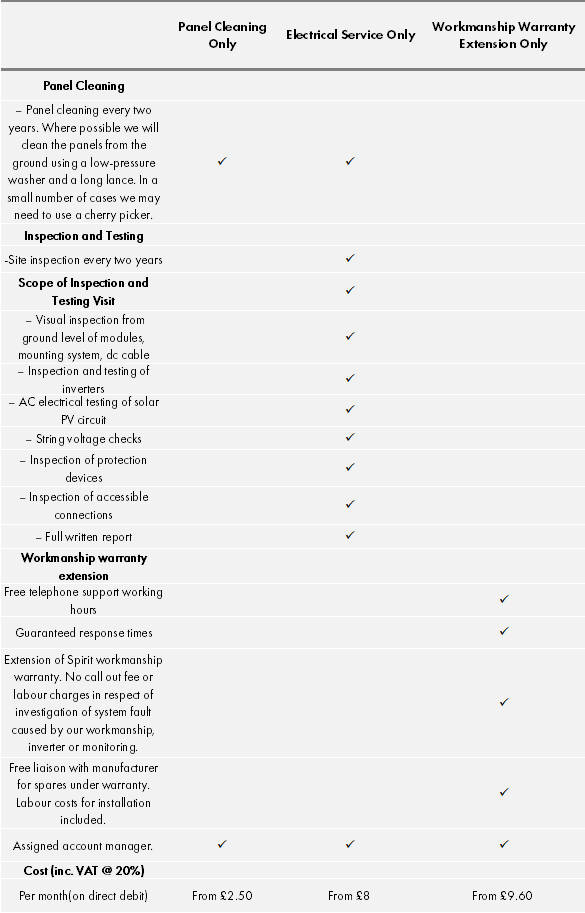 Please call us on 0118 951 4490 to request a price for servicing or cleaning your system.