What are solar roof tiles?
Solar tiles are small PV modules designed to resemble regular roofing. When the main barrier to investing in solar is appearance, PV tiles can be the perfect solution. You may also hear them referred to as solar shingles or rackless solar systems, as they don't have the mounting frames in traditional rooftop installations.
It's unlikely you can integrate solar tiles into existing roofing, so they're generally suited to newbuilds or renovations. The roof will be a mix of PV and dummy tiles, which look the same but don't generate electricity. These cover unfavourable parts of the roof, like north-facing or shaded surfaces, or to scale the size of the PV system to the electricity demand of the property.
The main advantage is aesthetics, which is particularly important in conservation or protected areas. While manufacturers are limited at the moment, they are gaining popularity in America where standard roofs are replaced every 30 years or so (matching the lifetime of PV), making a solar roof more appealing.
Note that solar tiles cost about 4-5 times as much as standard solar panels, due to the increased labour and products on offer. For most people interested in PV tiles, integrated solar panels are a better option.
GB-Sol
One of the few solar panel tiles already on the market, GB-Sol's PV Slate is manufactured in Wales. It's designed to integrate with slate roofs where planning permission can be restricted.
GB-Sol manages supply and install of its tiles, so your best option is to contact the company directly.

Key points:
Natural blue-grey slate effect.
Each module replaces 3 regular tiles.
Must be surrounded by normal slate tiles to fill in gaps and where tiles have to be cut.
25 year product, weatherproofing and power (80% of nominal) warranties.
Up to 35W output per module.
Lighter than standard tiles so no roof strengthening is needed.
Minimum pitch of 22.5°, though over 30° is better.
Tesla tiles
Perhaps the most widely recognised brand of solar tiles is Tesla's Solarglass roof, despite the fact it hasn't even been released in the UK. We don't yet know if or when it will be available, but it has seen a limited rollout in the US.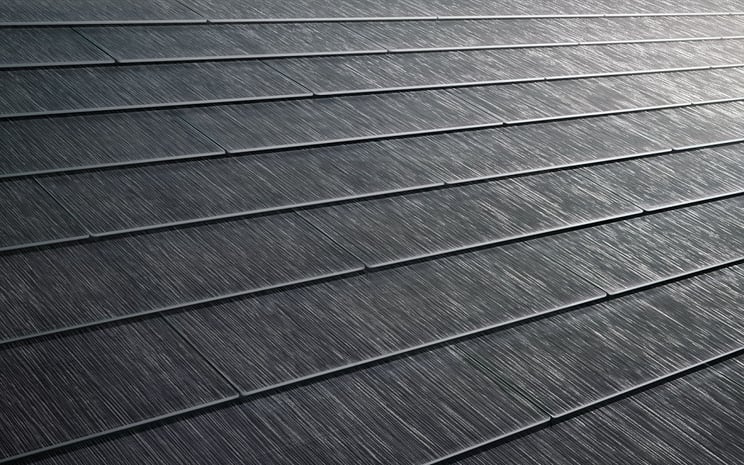 Key points:
Made of ultra-strong glass, in an attractive textured design.
Constructed from a Panasonic cell, coloured film and tempered glass.
25 year power, tile and weather guarantee.
While the cost is unknown, predictions are high, though Tesla has claimed the price will be comparable to a regular roof plus electricity bill.
You can put your name down for updates from Tesla.
Solecco
Solecco tiles may be a good alternative to waiting for Tesla, as they offer attractive black or terracotta roof options. We are still waiting to get pricing and availability information from Solecco.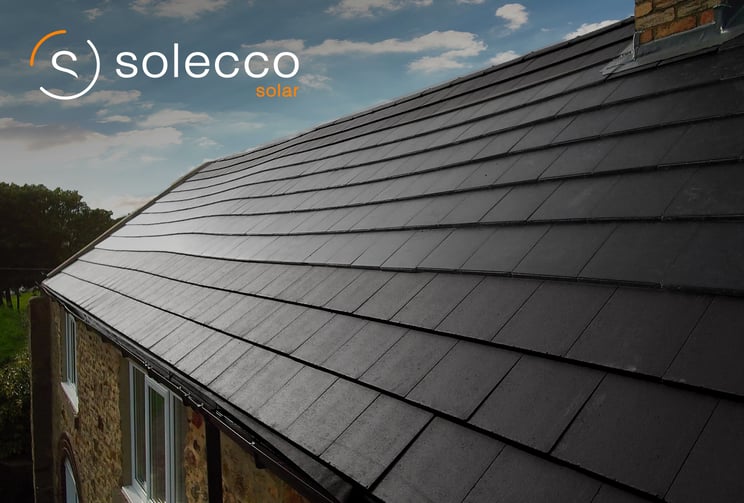 Key points:
The black tiles use monocrystalline cells, while the red terracotta ones are polycrystalline.
4 shades of black and red dummy tiles to create the desired aesthetic.
15W per tile.
17.39% efficiency.
30 year expected energy generation lifespan.
Recommended 22.5° to 80° pitch.
Tiles are clipped together in a row, which is then connected to the inverter.
Avoiding glass, these tiles are made from recycled plastic to reduce their carbon footprint.
Solar tiles vs other rooftop PV
There are some downsides to solar panel roof tiles compared to alternatives such as in roof or on roof PV. It's going to be more expensive - you're probably looking at about four or five times the cost. This is due to it being a newer technology, with little competition and longer installation times (about 2 weeks compared to a day or two for traditional panels). Obviously, costs will depend on roof size, access, system size and the proportion of PV vs dummy tiles.
Tiles are unlikely to be as efficient as other options, such as high performance monocrystalline panels which can reach efficiencies up to 25%. Connecting tile rows in a string could also lead to reduced output if part of the roof is shaded, but this could be mitigated by using dummy panels in shaded areas.
Ultimately we'd only recommend solar tiles in a protected area or where aesthetics are crucial, due to the extra cost and efficiency limits. A nice alternative is in-roof solar panels, which sit flush with the tiles and can look very attractive. Learn more in our solar tiles vs solar panels blog.
You can find out more about domestic solar in our free guide, or give us a call on 0118 951 4490 to discuss your project: