Introduction
We're often asked whether you can have a full solar panel roof - and the answer is yes! A complete solar roof utilises the entire available space for maximum PV generation, using specially designed modules, mounts and sometimes dummy tiles.
Which other roof gives you a 10% return on investment for 20 years?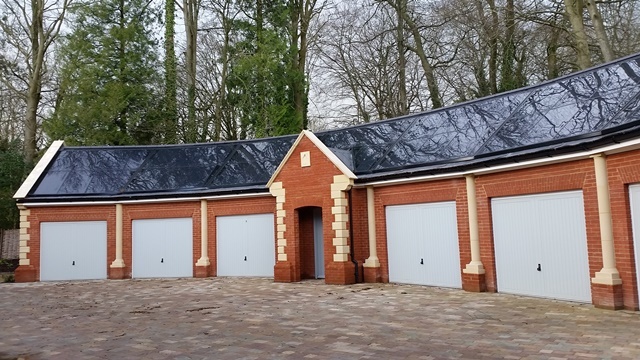 Roof integrated system designed and installed for Millgate Winchester December 2016.
A typical four-bedroom integrated solar roof will generate up to 6,000kWh a year of electricity, with the potential to save significantly on electricity over the 25-30 year life of the panels.
Panels can either fill part of a roof, in which case the rest of the roof needs tiling (see more on 'partial roof-integrated solar'), or they can fill the whole roof, as in the systems on this page.
Spirit offers two roof integrated systems, one by GB-Sol, and one by Easy Roof Evolution. We can quote you for either or both, depending on your particular roof and also whether you need Velux® windows (in which case Easy Roof Evolution maybe more suitable).
GB-SOL
GB-SOL's system is unique in using solar panel laminates - the structure of the mounting system itself forms the panels' framework.
Each panel is supplied complete with EPDM edge gaskets that complete the sealing of the roof. The mounting system framework provides backup drainage in the unlikely event an installer may damage the gasketing.
Once a roof is at its normal membrane level, the roof integrated system can be fitted directly to the battens using the standard fixings provided.
When the framework is in place, solar PV laminates are added and the capping strips are riveted in place, retaining the panels by compressing the gaskets to form a perfect seal.
GB-Sol standard 260W-285W laminates are easier to manage on the roof as well as providing infinitely more options to maximise the amount of roof area that can be utilised.
Finally, the surrounding flashing kit is installed. These are aluminium with the option to be powder coated and will have been designed exactly for the array specified. Fitting is simple without any cutting or adjustment.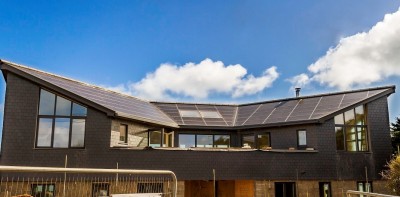 Benefits
The integrated solar roof system offsets the cost of the standard roof covering e.g. tiles or slates, and the assembly time on a bare roof can be significantly quicker than cutting tiles and fitting hooks.
Ideal for full or part roof systems.
Quick and easy to install, as only assembly required.
Cost effective.
Manufactured in the UK.
Tested by BRE (Building Research Establishment).
Installed throughout the UK (since 1995).
Self-sufficient in sealing the roof.
Requires no additional membrane.
Provides a flush installation to the surrounding tiles.
Dual systems for ingress protection.
Provided as a complete kit, with flashings designed for your array layout.
We will size and design your scheme upon receipt of the basic information, providing a detailed quotation and kit list.
Also suitable for facades in the FIS format…
… and no cutting – just assemble!
Easy Roof Evolution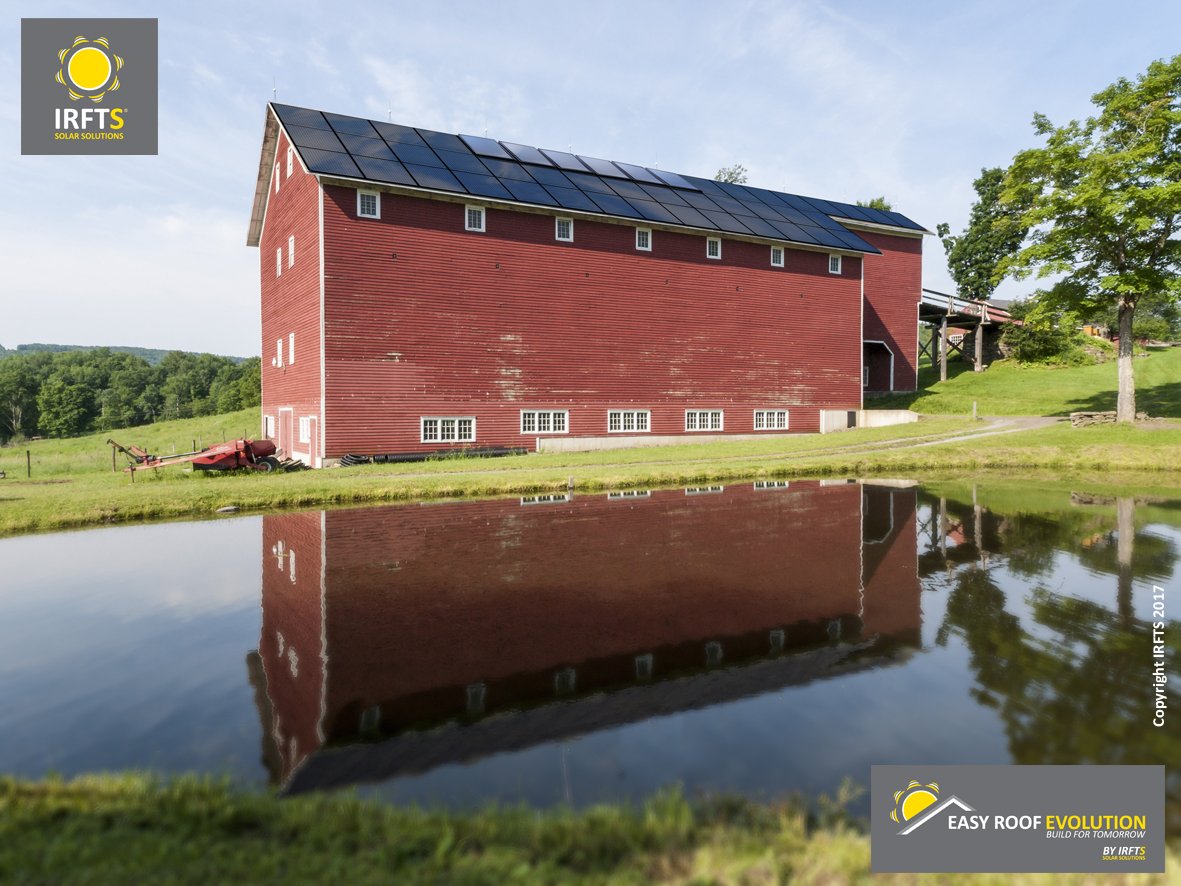 The Easy Roof System is actually French, made by IRFTS Solar Solutions.
It can be used for a partial roof solution, or a full roof solution. One of its key attractions is the fact that IRFTS has teamed up with Velux® to allow Velux® windows to be mounted within the roof.
The system is an MCS (Microgeneration Certification Scheme) accredited, ventilated in- roof mounting system.
Designed for simplicity, essentially each panel mount is like a tile, with a patented interlocking process between the mounts.
Panels can be mounted in portrait or landscape, on any type of roof (tiled or shingle). Flashings are used to achieve a watertight seal between the array and the adjoining tiles.
The mounts come with a 10 year warranty and are made using 100% recyclable material.
Easy Roof + Velux® Windows

IRFTS and Velux® have teamed up with Velux to produce a special mount for a Velux® Window, thus allowing placement of a window within the solar panel array.
The mount is compatible with either a standard Velux® MK06 (780 x 1180mm) or the larger MK08 (780 x 1400mm).
Once again it comes with a 10 year warranty.
The results look pretty good: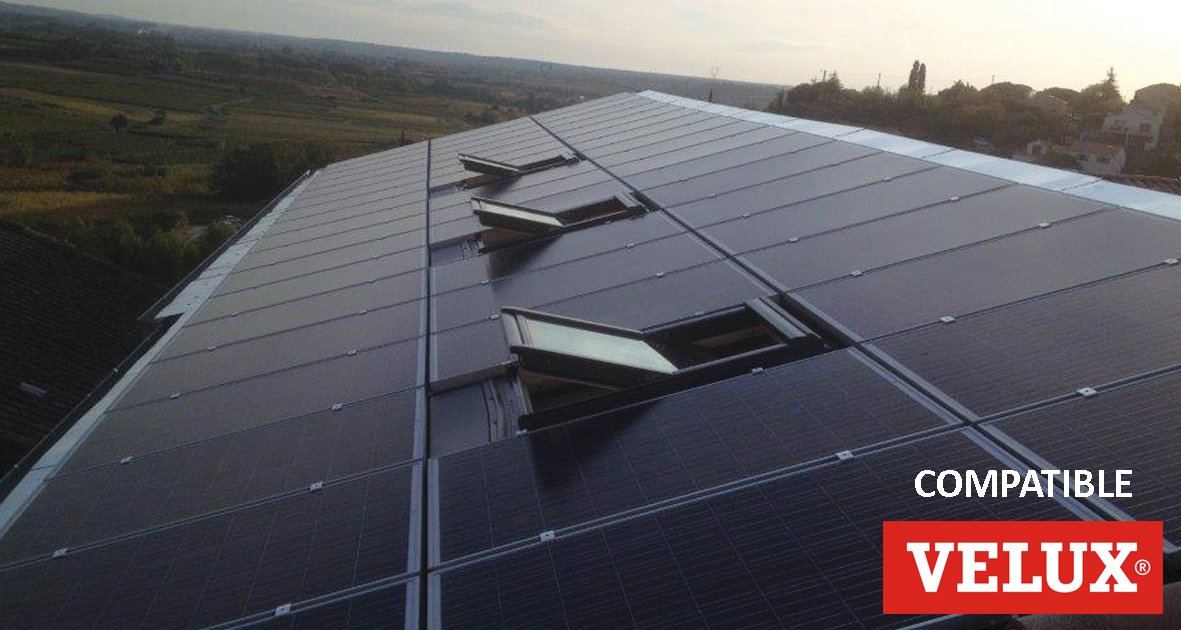 Datasheets
Download datasheets here: