Don't give up on an asbestos roof…
An over-roof is the solution to installing solar panels on fibre-cement and older asbestos-cement roofs. It eliminates fixing issues as the PV structure only connects to the rafters, and therefore does not disturb the asbestos cement. It is fully endorsed by roof sheet suppliers.
How it works: the over-roof
A series of rafters over the roof, connected to one another by sturdy aluminium beams, directly support the PV modules. The small number of rafter mounting points are fitted with a flashing system, eliminating any chance of leaks in these areas, with the remaining roof surface left untouched.
Key benefits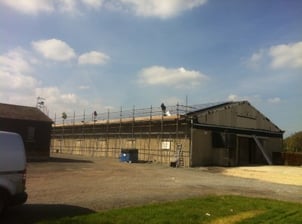 The solution for fibre-cement and asbestos-cement clad roofs
Minimal disruption to roof surface; retains roof sheet warranty
Direct mounting onto rafters removes loading issues
Optimum spacing between roof and modules increases PV output
UK snow and wind loading compliant (subject to building suitability/strengthening)
Simplifies roof maintenance
You can enjoy all the benefits of PV without compromising the integrity or life span of your roof.