Domestic solar carports
Installing a solar panel carport roof offers another opportunity to incorporate PV panels within your property, besides installing them on your main roof.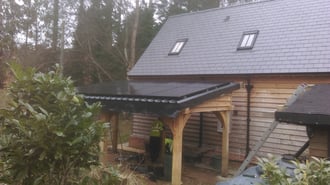 Our recommended solution for domestic customers is an oak frame carport unit with a trapezoidal sheet roof (as pictured) to enable an easy and cost-effective solar panel installation. Ideally the location of the carport will be close to the main property (and distribution board) in order to reduce cabling costs.
Whilst owners of electric vehicles will be interested in installing a self-contained solar generation and charging point, such a carport has a number of benefits that will be of interest to any homeowner, providing a complete package for excellent value. You can even use them as a covering for patio areas if there isn't adequate drive-space available!
The port shelters your vehicle from the elements, shading it in summer and keeping the snow off in winter.
It provides an additional roof space for solar panels. This is especially useful when the main roof spaces of the property are unsuitable.
The carport orientation can be chosen to give optimal exposure to the sun and positioned to avoid any risk of panel shading. This level of flexibility is rarely achievable on conventional house roofs.
Just as with standard installations, energy generated by car port systems would be fully eligible for export tariffs.
Commercial solar carports / walk ways

Carports are an ideal solution for businesses who would like to invest in a solar PV system but do not have appropriate roof spaces. They also have the added benefit that the car park can still be used for its intended purpose whilst simultaneously providing a good return on an otherwise unproductive space (an advantage of many BIPV systems).
The optimal solution for each car park would be determined by consideration of the location, site exposure and the row spacings. Larger car parks can incorporate a port system that will cover two rows of cars, saving both on the space needed for foundation blocks as well as the time required for installation.
Our recommendation for commercial customers would be to construct a bespoke steel framed structure with a trapezoidal roof sheet, enabling a low cost solar installation. We can project manage the entire process, engaging with fabricators to erect the frames, and then designing, installing and commissioning the PV element ourselves.
Alternatively, we would propose using a FlexiSolar carport frame system. FlexiSolar offer both T-Frame and V-Frame 'off-the-shelf' systems that we can oversee the installation of and then fit the solar panels ourselves.
See our range of commercial EV chargepoints, which offer further revenue opportunities to businesses through charging customers for use of the chargers.